E Komo Mai - Welcome to Post 3830
(Lance Corporal Hayward Kimo Hamili Peleiholani Post)
The Hottest Little Post in Hawai'i
Post Commander

Benedict Fuata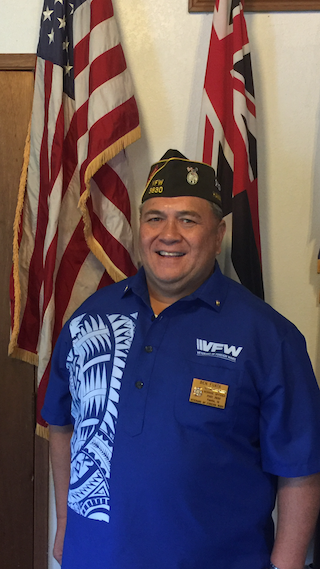 Veterans Day Virtual Ceremony
View Veterans Day Program Booklet 2021
Click
here to view on Facebook.
Friday Nite Fish Fry - Drive Thru!!

Come on down last Friday of the month, from 4 pm to 6 pm, to experience this popular dinner!!!
Menu includes Swai (Cod) (dipped in light batter, rolled in panko and deep fried), French Fries, Cole Slaw, drink, and dessert.
This is sponsored by the Veterans of Foreign Wars Post 3830 and Auxiliary and everyone is welcome, donation is $12/person! At the VFW Post in Nanawale/Pahoa - just follow the blue VFW signs once you turn into Nanawale!


Prevent Veteran Suicide
If you are a Veteran in crisis -- or you're concerned about one -- free, confidential support is available 24/7. Call the Veterans Crisis Line at 1-800-273-8255 and Press 1, send a text message to 838255, or click to chat online.
If you know of Veterans in need, please let us know.
Chaplain's Corner
Coming Soon!